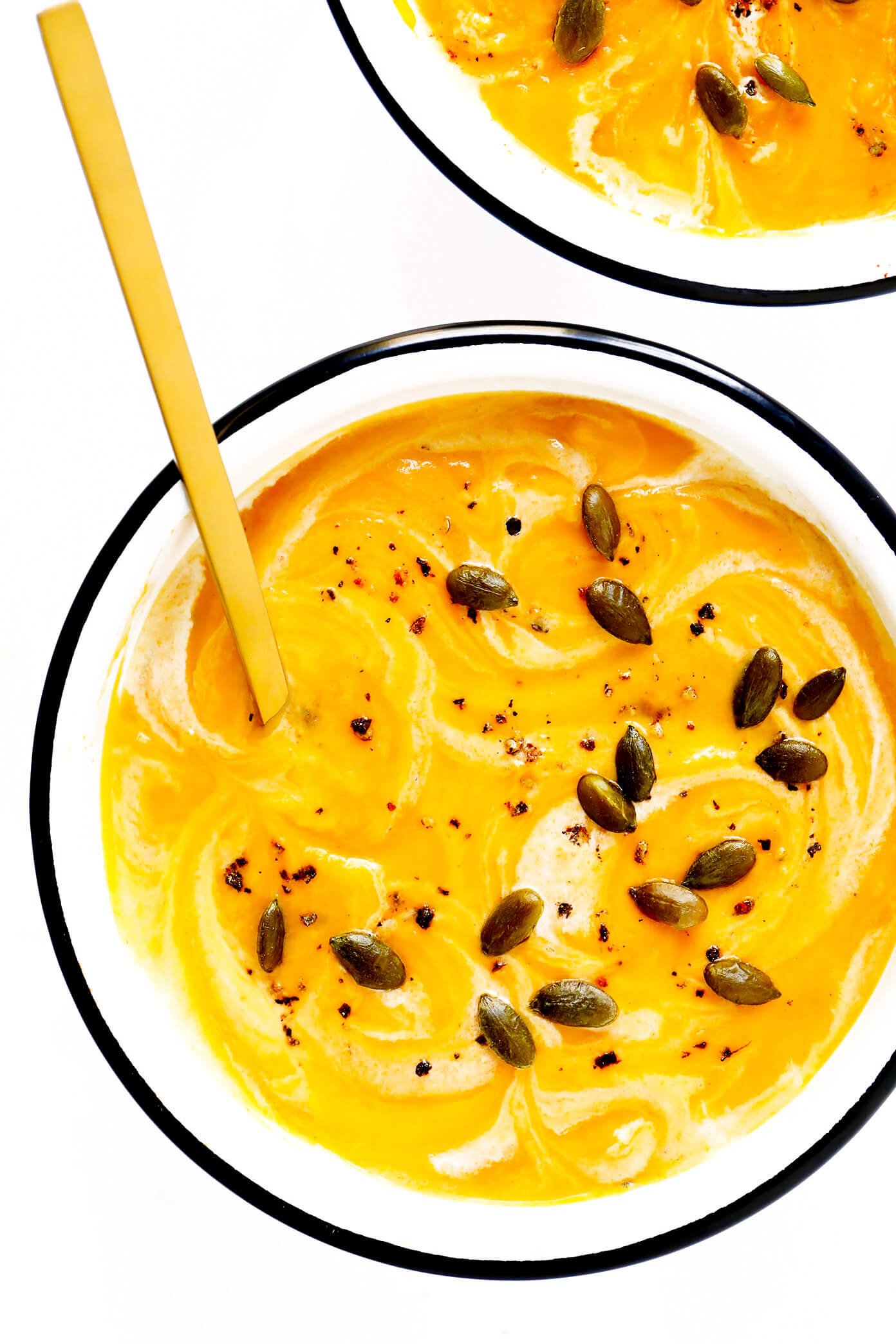 Mmmm, September. ♡
I don't know about you all, but the moment the calendar flipped over this weekend, all I wanted to do was cozy up with some of my fall faves.  It was gray and rainy here these past few days, which probably provided extra incentive to stay in and snuggle up.  And sure enough, one thing led to another, and before you knew it our little home was in full-on, festive, fall hygge mode.  We're talkin' a fireside candle burning, fall playlist on the speaker, inaugural pumpkin roll of the season baking in the oven, a steaming cup of hot cinnamon spice tea in my paws, big cozy throw back on the couch, soft slippers on my feet.  And the quintessential fall first — a big butternut squash ready and waiting on the counter to be turned into my mom's famous butternut squash soup recipe.
We made a huge batch and shared it with some neighbors and friends who were over throughout the weekend.  And as always, it proved to be the perfect fall comfort food.  It's incredibly easy to make in the slow cooker, pressure cooker, or on the stovetop.  (I've included all three methods below.)  It's full of good-for-you veggies, and also happens to be naturally gluten-free and vegan.  And it's just the perfect balance of sweet and savory seasonal flavors.
I first shared this recipe back on the blog four years ago, but thought it was worth bumping it back to the top of the blog today in case you're also craving all of the cozy fall vibes.  It won't let you down.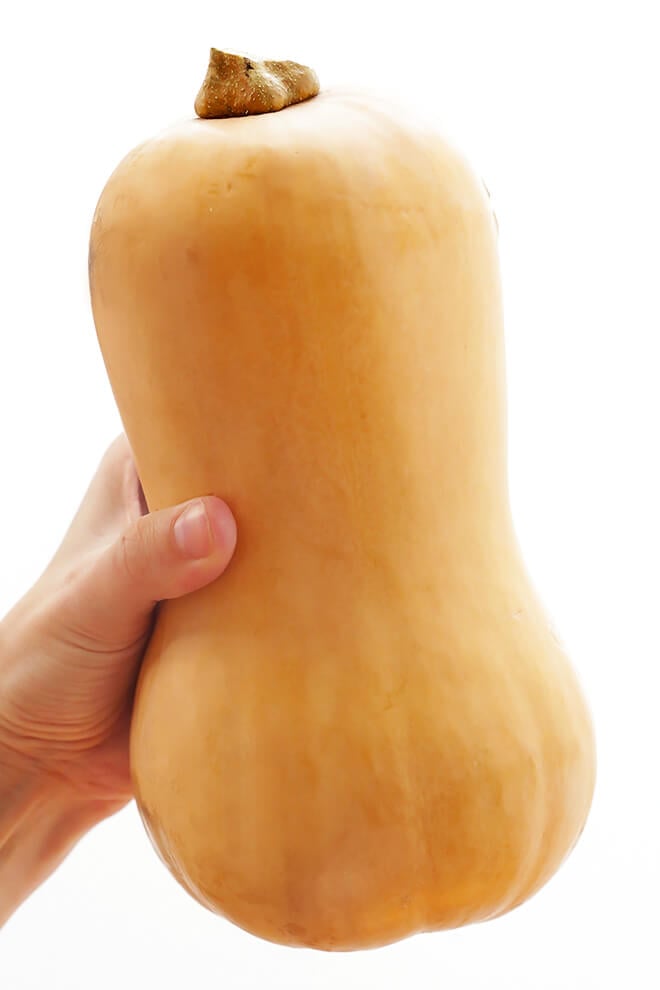 BUTTERNUT SQUASH SOUP INGREDIENTS:
To make this easy butternut squash soup recipe, you will need:
Butternut squash: You can either use 1 medium-sized fresh butternut squash.  (<– Here is my tutorial for how to select, peel and cut fresh butternut squash.)  Or feel free to save a step and purchase your squash pre-cut, either in the fresh or frozen vegetable section of the grocery store.
Carrot, apple and onion: To add some extra sweet and savory flavors to the soup.
Vegetable stock and coconut milk: For your broth.  (We'll stir the coconut milk in at the very end.)
Garlic, sage, salt, black pepper, cayenne, cinnamon and nutmeg: My favorite seasoning combo.  If you don't have fresh sage on hand, feel free to use a pinch of dried.  (And if you do have fresh sage, I also love to fry up a few extra leaves and use them as a garnish on top.)  Also feel free to add more or less cayenne to taste.
Your choice of garnishes: I like to drizzle on some extra coconut milk, maybe sprinkle of toasted pepitas, and a sprinkle of extra black pepper and/or smoked paprika.  Mom's version called for sprinkling cayenne on top.  Or I've included lots of other ideas for fun garnishes below.
You will also need a: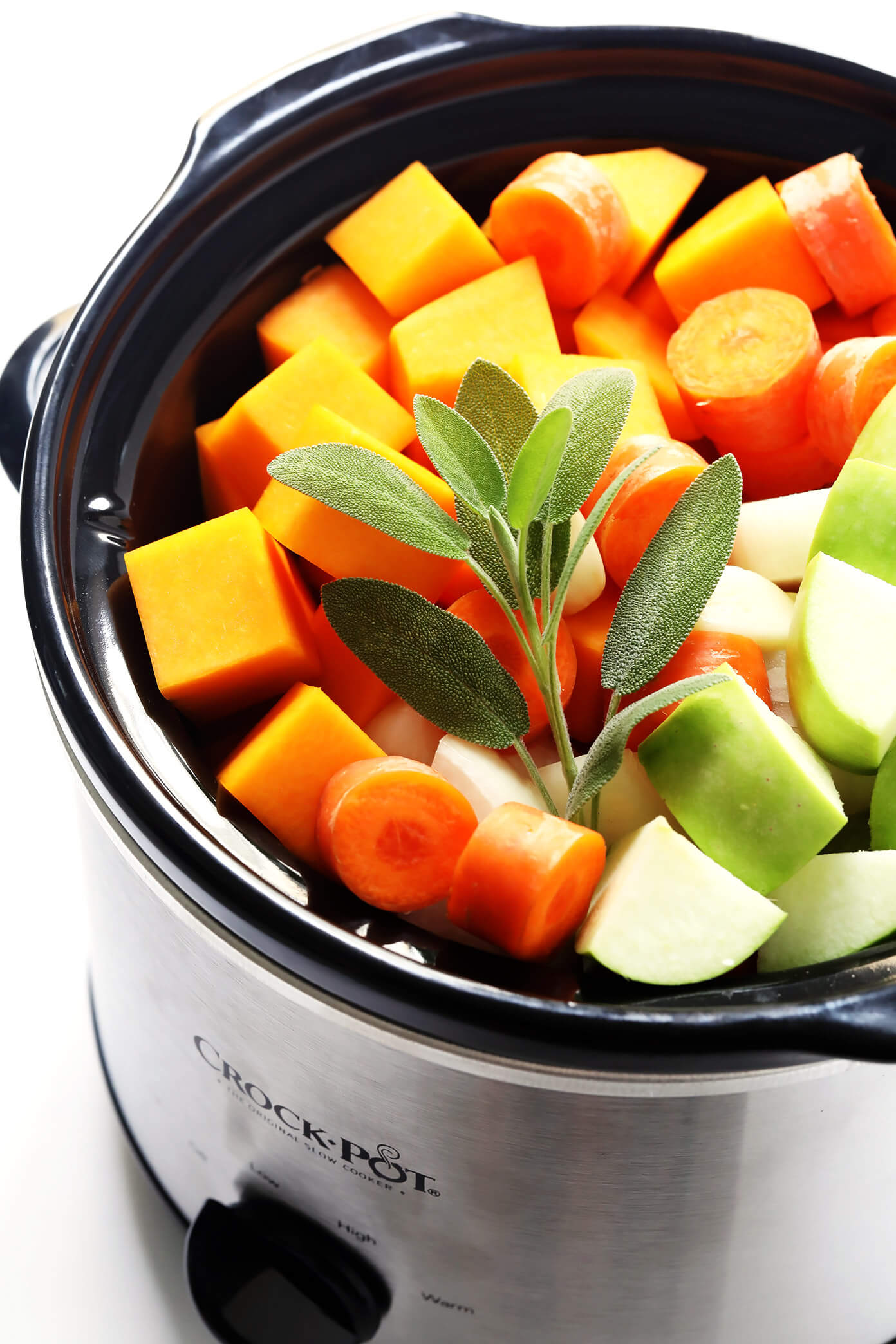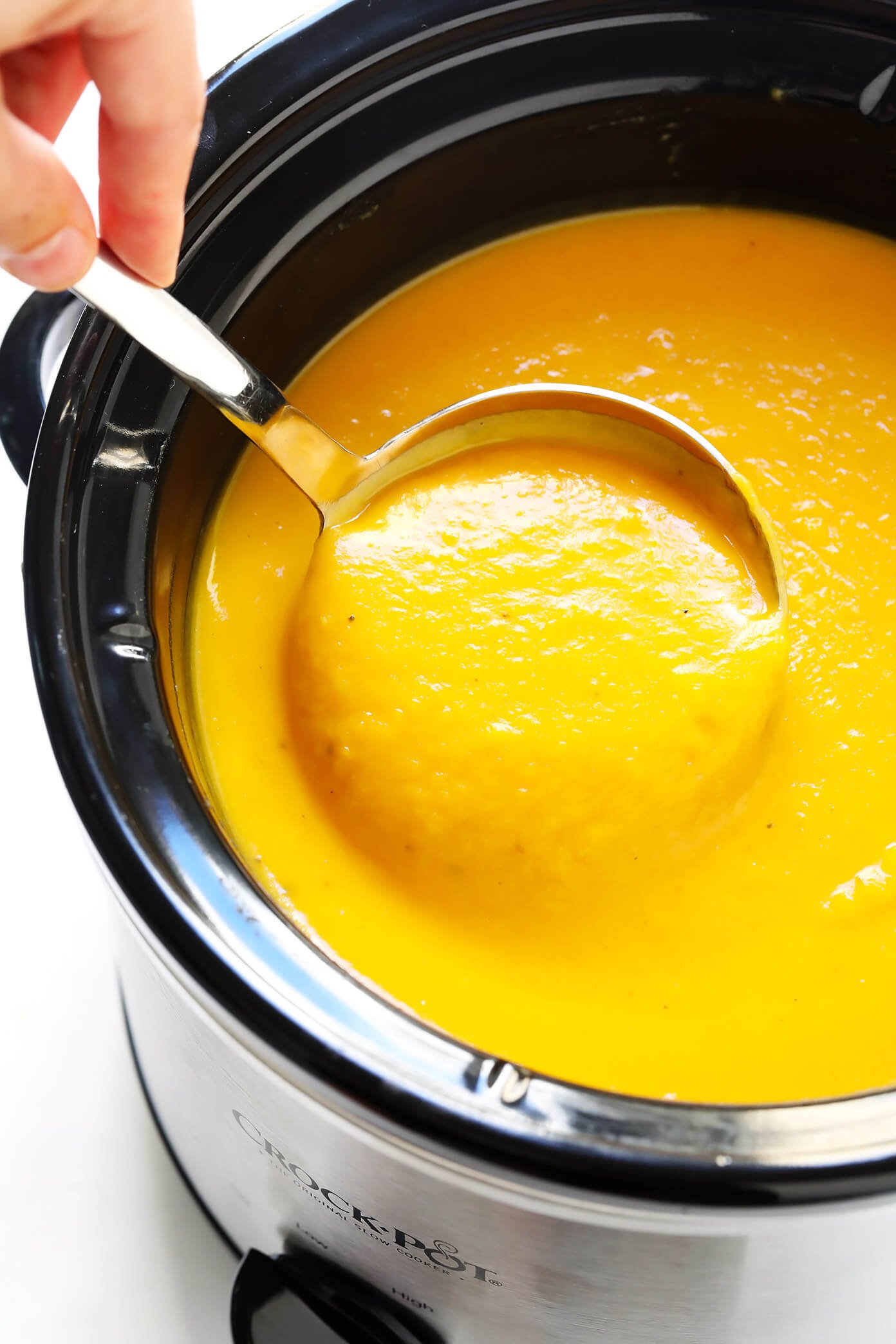 SLOW COOKER BUTTERNUT SQUASH SOUP INSTRUCTIONS:
To make crockpot Butternut Squash Soup, simply…
Combine your ingredients (minus the coconut milk) in a slow cooker*.  Roughly diced — don't spend time perfectly chopping all of your ingredients.  Feel free to use a large (6-quart) slow cooker or a small (3.5- to 4-quart) slow cooker.
Cook until tender.  Generally about 6-8 hours on low, or 3-4 hours on high.  Then remove and discard the sage and add
READ MORE HERE:  http://www.gimmesomeoven.com/slow-cooker-butternut-squash-soup-recipe/