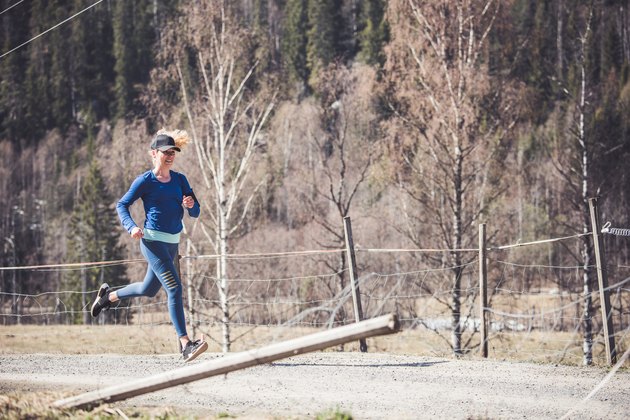 Jogging every day offers a host of potential benefits, including a stronger immune system, better stamina, weight loss, less risk of chronic diseases and a natural mood boost. However, it also poses a couple of potential risks, including the possibility of overtraining.
The Benefits of Jogging Regularly
Health.gov's Dietary Guidelines for Americans recommends that adults should get at least 150 minutes of moderate intensity aerobic activity each week. If you go for a half-hour jog every day, that's enough to meet — and even beat — this requirement.
Tip
The Dietary Guidelines also notes that doubling the amount of cardio exercise to 300 minutes of moderate exertion each week yields even more extensive health benefits.
So, what's on the menu for "better health through exercise"? The well-researched benefits of jogging and other cardiovascular exercise include:
Weight loss
Increased stamina
A stronger immune system
Decreased risk of chronic diseases, including obesity, heart disease, hypertension, type 2 diabetes and some cancers
Help managing chronic conditions and improving quality of life
An improved cholesterol profile
A natural mood boost
Weight Bearing and Impact
Jogging is also a weight-bearing activity that can help you build and maintain strong bones in your lower body, as long as your bones, joints and muscles can handle the repeated impact of each footfall. If you know you have weakened bones or any other condition that might affect your ability to withstand a relatively high-impact exercise, speak to your doctor before jogging every day.
Some of the steps you can take to mitigate the impact of jogging include:
Wear supportive, well-cushioned footwear.
Run on softer surfaces — such as dirt or wood chips — instead of pavement or cement.
Warm up and stretch before you jog; then cool down and stretch after, to reduce your risk of injury.
You can also try "water jogging" in the pool, with a flotation belt to keep you above water. This gives you all the cardiovascular benefits of jogging, with none of the impact on your bones and joints.
A Note for Beginners
If you're new to exercising, or new to a particular type of exercise, it's typical at first to develop some soreness — so that is one of the effects you might experience when you first start jogging. The good news is that this type of muscle soreness typically fades within a few days, and as your body adapts to the new exercise the soreness is less likely to come back.