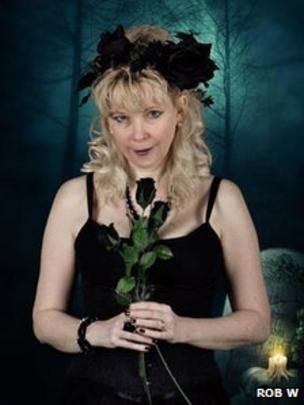 It is 400 years since the Pendle witch trials led to 10 people being hanged for witchcraft. But do modern witches still suffer prejudice?
He has carved out a successful career as an employment lawyer.
But the 38-year-old, who is sometimes known as Myrddin, also takes part in activities which he prefers to keep secret.
For Myrddin is the head of a witches' coven in Lancashire.
He said: "We don't do anything sinister like Devil worship and we don't make human or animal sacrifices.
"We honour, revere and give thanks to nature. We celebrate the seasons. It's not all blood and gore. In spring, we celebrate life and rebirth then in the winter, decay and death to make way for new life."
His coven in Chorley is little more than 30 miles from Pendle, where in 1612, 10 people were seized amid claims of being involved in witchcraft.
But, 400 years later, prejudice against witches stills exists, according to Myrddin.
He said: "It comes from ignorance and fear of the unknown and it is the reason why rituals and celebrations are held in secret."
Witch school
In his spare time, he wears a cloak "or something warm for the great outdoors" and heads up a magical working group practising traditional witchcraft which includes druidry, shamanism and wicca.
He said there is no conflict between his day job and his spiritualism. "My philosophy is to live in honour and honour every living thing, our landscape and the world we live in."
Since he was a young child, Myrddin has had an affinity with the countryside.
He said: "I could feel the magic of nature. I was brought up a staunch Christian but it wasn't enough and I realised there was label for what I felt – paganism."
The coven celebrates eight Celtic festivals across the year and the moon cycles in the Lancashire countryside centred around a campfire where the motto is "eat, drink and be merry".
Hazel Woods, of the Pagan Federation, said there are witches of all social classes and occupations but prejudice means many are still reticent about declaring their beliefs.
Kathy Rowan-Drewitt, 51, from Blackpool, runs her own witch school and has taught more than 60 witches.
She said: "Many still keep being a witch secret from their family, friends and work for fear of being treated unfairly or thought of as weird.
"Times have changed but calling someone a witch is
READ MORE HERE: https://www.bbc.com/news/uk-england-lancashire-19211852