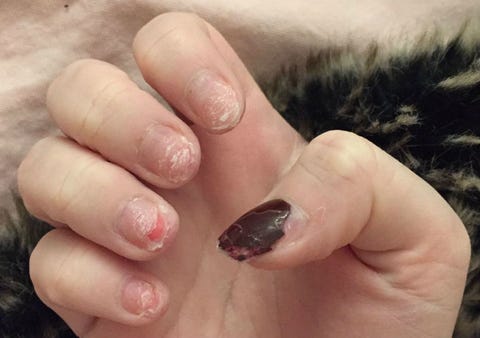 If you are prone to biting your nails when you're nervous/bored like me (I didn't only lose 2 hours and 13 minutes of my life to Fantastic Beasts, I lost all my nails too) then you will know how appealing the idea of acrylic nails can be.
My short stubby nails will never get their own Instagram post, in fact they are actually an Instagram hindrance. For instance, If I'm trying to take a picture of my new highlighter, I have to hold it in an incredibly awkward fist shape, to avoid anyone knowing the truth of my Jonah Hill hands.
Beauty blogger Amelia Perrin can not relate to my struggles, because she has the kind of enviably long talons that people like me can only dream of…
But Amelia also revealed the painful truth behind an acrylic nail addiction. Taking to Twitter, she posted a picture of her real nails and oh god it's making me stress bite my own nails.
Admittedly I'm an absolute baby when it comes to things like this but that looks INCREDIBLY PAINFUL.
Maybe I'm not being such a baby after all…