If you're trying to eat healthier, you may be considering omitting meat from your diet. Many restaurants and supermarkets now offer protein alternatives to make your decision easier. But is a vegetarian diet healthier? Learn about the pros and cons of a diet for vegetarian or vegan vs. a meat-eater to inform you as you consider changing your lifestyle.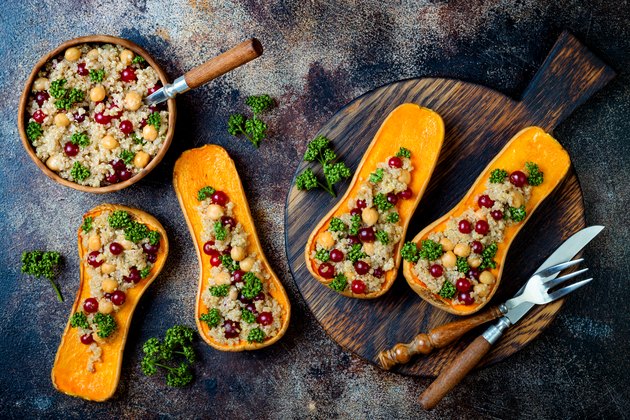 Although all vegetarians avoid eating meat, poultry and sometimes fish, there are many different variations of the vegetarian diet.
Vegans are total vegetarians who do not eat any animal products such meat, poultry and fish, including dairy products, eggs and honey.
Lacto vegetarians avoid all meat, poultry, fish and eggs, but they consume dairy products.
Lacto-ovo vegetarians don't eat the flesh of any animal. No meat, poultry or fish, but eggs and dairy products are acceptable.
Ovo vegetarians eat eggs but refrain from eating meat, poultry, fish and dairy products.
Pesco vegetarians or pescatarians avoid meat but may eat fish.
Pollo-vegetarians don't eat red meat but eat poultry.
How Many People Are Vegetarians?
Approximately 8 million adults in the U.S. do not eat meat, poultry or fish, according to the 2016 National Harris Poll published by the Vegetarian Resource Group. About one-half of vegetarians are also vegans — approximately 3.7 million U.S. adults.
Vegetarians, including vegans, make up the following percentages of the U.S. population:
3.2 percent are adult males
3.5 percent are adult females
5.3 percent are ages 18 to 34
3.1 percent are ages 35 to 44
2.2 percent are ages 45 to 54
1.8 percent are over age 65
Additionally, an increasing number of people have omitted or cut back on red meat consumption but still eat chicken and fish. Statistics show that 37 percent of Americans often or always eat vegetarian meals when dining out. This has major implications on the food and restaurant industry, which must offer meat alternatives and vegetarian dishes.
Reasons Why People Go Vegetarian
People choose to eat vegetarian for a variety of reasons. The Humane Research Council took a survey of the primary and contributory motivations for individuals to become vegetarians. Most people have multiple reasons for their transition, but the following are some of the more common:
Compassion for animals
To eat a generally healthier diet
To avoid additives and antibiotics in meat
A dislike for the taste of meat
To reduce impact on the environment
To reduce disease, like cancer and diabetes
For religious convictions
To eat less expensively
To lose weight
To reduce intake of cholesterol and fat
Are Vegetarians Healthier?
Continue reading "The Statistics of Vegetarians Vs. Meat-Eaters GORD KERR REVIEWED BY: JILL CORLEONE" →