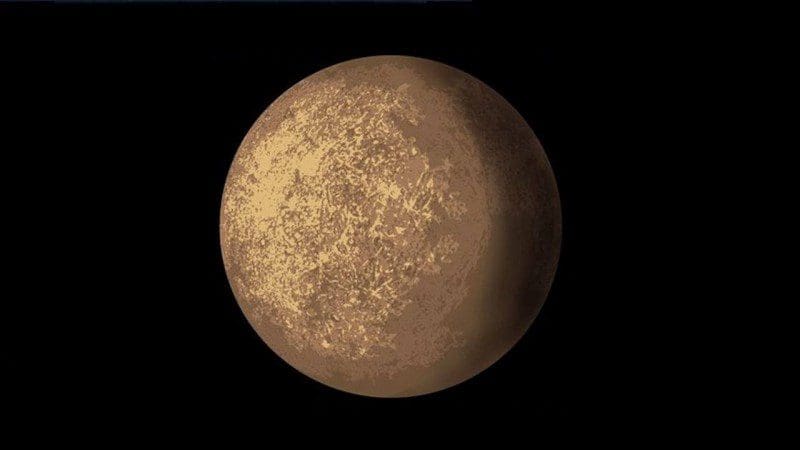 Mercury retrograde July 2019 begins on July 7 at 4° Leo and ends on July 31 at 23° Cancer. This Mercury retrograde 2019 is very intense and combative because it is conjunct Mars. It is also impulsive and provocative because it is square Uranus. Nervous and rushed thinking brings the potential for losing your temper and getting in arguments.
Mercury retrograde July 2019 requires self-awareness, concentration, patience and impulse control. Chose your battles carefully and avoid making spontaneous decisions. A tendency to act rashly without regard for the consequences could lead to great disruption or conflict.
More detail about Mercury retrograde 2019 follows. Information about natal Mercury retrograde and the general meaning of Mercury retrograde phases can be found at the end of this article.
Mercury Retrograde July 2019
The Mercury retrograde phase is just one part of the Mercury retrograde cycle. The whole cycle includes Mercury going direct, retrograde, and direct again over the same degrees, or the retrograde zone (23° Cancer to 04° Leo). The two direct phases are known as shadow periods. The three phases of Mercury retrograde July 2019:
June 20 to July 7 – The first shadow phase from Mercury entering the retrograde zone until Mercury stationary retrograde (23° Cancer to 04° Leo).
July 7 to July 31 – The Retrograde phase lasts from Mercury stationary retrograde until the Mercury direction station (04° Leo to 23° Cancer)
July 31 to August 15 – The second shadow phase lasts from Mercury stationary direct until Mercury leaving the retrograde zone (23° Cancer to 04° Leo).
Mercury Enters Retrograde Zone
Mercury entered the retrograde zone at 23°56′ Cancer on Thursday, June 20, 2019. During the first shadow period, you will get an idea of the thinking, communication or transport issues that will arise during the retrograde phase.
The chart below shows Mercury and Mars opposite Pluto which is extremely competitive, argumentative, and combative. At 23°28′ Cancer, there is also a very combative fixed star called Pollux, the Gemini Twin famous for his skill in boxing.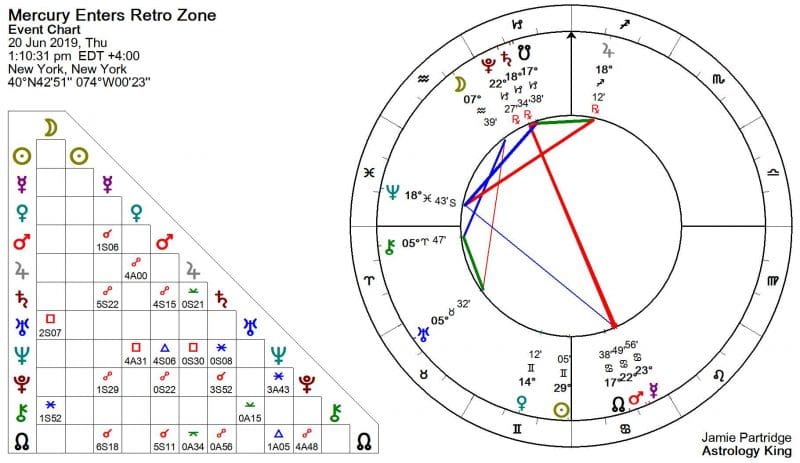 Mercury conjunct Mars gives focused and acute thinking which is good for arguing your case and defending others against harassment or provocation. But it also gives aggressive or defensive thinking which can lead to arguments, temper tantrums and being unnecessarily rude or abusive.
Without using up this intense energy in mental work, a good debate or solving puzzles, you may encounter hostility in others. This could come in the form of threats, abuse or intimidation. Choose your battles carefully because of a tendency toward acting before thinking.
Fixed star Pollux at 23°28′ Cancer bisects Mercury and Mars. It has a Mars nature and has always been considered to portend eminence and renown, but can indicate a cruel, rash nature and is connected with poisons. The energy of Mars can be extremely valuable in such areas as
READ MORE:  https://astrologyking.com/mercury-retrograde-july-2019/